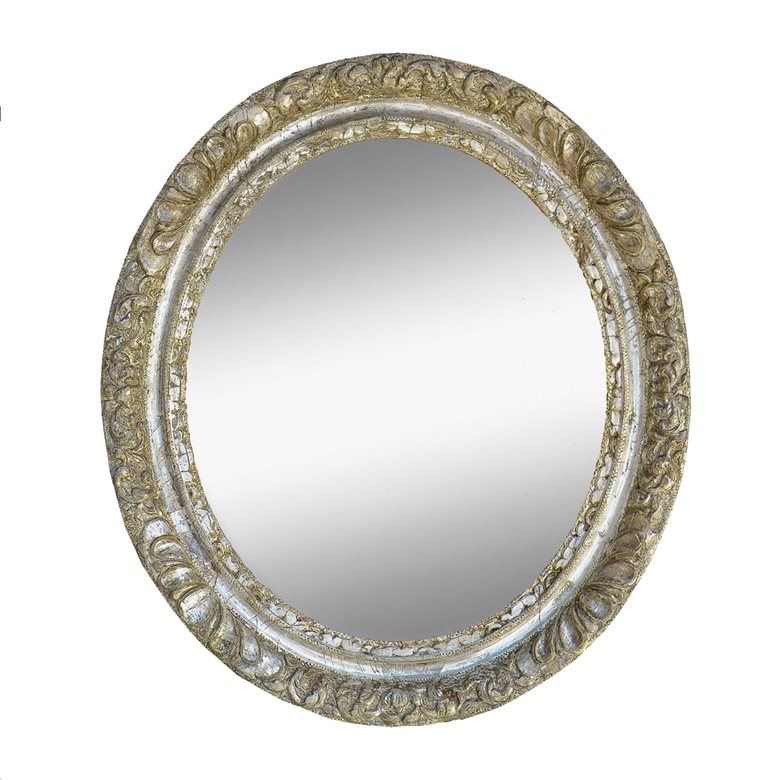 Antique English 17th century mirror
An oval antique English 17th century mirror retaining its original silverleaf gilding.  Hand carved sight edge, scotia, leaf and flower panels with cross-hatched background, concave carving to the reposes and leafwork to the back edge.  The plain burnished hollow brings a mirror-like quality which can be used effectively on darkly decorated walls or shadowy interiors and the gilding particularly alluring under candle light giving the frame a gentle glimmer.
The style of this frame is known as 'Lely' as it had an association with the paintings of the 17th century artist Sir Peter Lely, a painter of Dutch origin whose career was nearly all spent in England, where he became the dominant portrait painter to the court.
Original silverleaf, mirror plate possibly 19th Century.
A reproduction of this frame is available to any size and finish required, please contact us for further information.
Overall Height: 22 1/2" (57.1cm)
Overall Width: 20" (50.8cm) 
Approximate width of section: 3" (7.6cm)
£3800